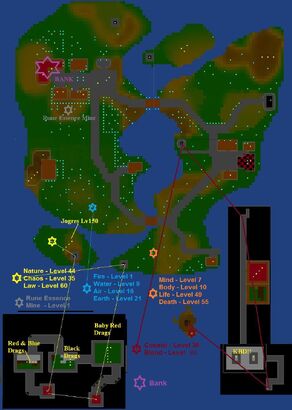 Runecrafting is a skill on ClassicKBD that allows players to craft runes for use. There are many locations across Glienor with Rune Essence rocks(Level 1 mining required).
The image to the right shows Island West, a common place to runecraft.
The first altar shown as a Blue Star on the map, is the Elemental Altar.
The second altar shown as an Orange Star on the map, is the Dark Realm Altar.
The Yellow Star shows the Altar of Light.
Finally, the Dark Red Star locates the Enigma Altar.
High level Runecrafting Altars surrounding Deep Wilderness Town: High level ancient altars will now give double the xp and runes of normal Altars. do ::coords command to enable coords in game.
Ancient Elemental Altar
Level 100 RC Required
20 runes per essence of: Airs, Fires, Waters Earths
Coords: 95, 1
Ancient Dark Realm Altar:
Level 115 RC Required
16 runes per essence of: Minds, Bodys, Lifes, Deaths
Coords: 143, 9
Ancient Altar of Light:
Level 130 RC Required
12 runes per essence of: Natures, Chaos, Laws
Coords: 104, 46
Ancient Altar of Enigma:
Level 145 RC Required
8 runes per essence of: Cosmics, Bloods
Coords: 155, 49
Places to runecraft/mine rune essence
Edit
Non Wilderness
Edit
Island West (rub an amulet of fury or charged dstone ammy)
Wilderness
Edit
Castle (take Kardia)
Lava Town (North of Mage Arena, no altars, only rocks)
Deep Wilderness Town(DWT), rub amulet of fury or walk to north east corner of wild

Keep in mind the altars here require 100+ to use, they give bonus xp and runes
Ad blocker interference detected!
Wikia is a free-to-use site that makes money from advertising. We have a modified experience for viewers using ad blockers

Wikia is not accessible if you've made further modifications. Remove the custom ad blocker rule(s) and the page will load as expected.